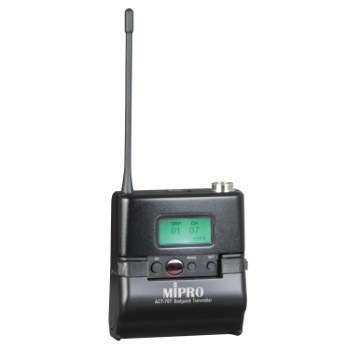 Mipro ACT-70T
Choose Options
| | Price |
| --- | --- |
| Cash & Carry: | RM 2,300 |
• Ultra slim bodypack transmitter with sturdy magnesium alloy housing.
• On the top features mute switch, mini-XLR connector and antenna.
• Backlit LCD displays all operational parameter information.
• Innovatively designed battery cover allows easy access to operate buttons and prevents accidental operation.
• Mute button with remote-control jack for easy activation of mute function.
• Stable PLL circuits. Automatically synchronized with the receiver's frequency by MIPRO's patented ACT™ function.
• Can directly match to high-low input impedance for microphone or guitar without switching.
• The input sensitivity is adjustable with six selectable gain settings.
• Mini-XLR input with secure screw lock connector for lavaliere / headworn mics and guitar.
• Adjustable belt clip allows wearing transmitter in up or down position.
• High-efficiency circuitry design provides 12~14 hours of operation from 2 AA batteries (depending on the battery quality).
Datasheet
ACT-70T [PDF]
Frequency Range
US Band : 482~698 MHz
EU Band : 482~790 MHz
Bandwidth
72 MHz
Oscillation Mode
PLL Synthesized
Channel Set-Up
ACT Sync
RF Output Power 
10 mW / 50 mW switchable (country dependent)
Spurious Emissions
<-55dBc
Gain Setting
+12dB, +6dB, 0dB, -6dB, -12dB, -18dB (6 settings)
0 dB = input microphone sensitivity
Max. SPL
N/A
Max. Input Level
0dBV
Mute Connector
Optional MJ-70 remote mute switch
LCD Display
Group, Channel, Frequency, AF gain, Frequency band, RF power, Mute mode, Lock status, Battery status and error codes
Capsules
Headworn: MU-13 / MU-23 / MU-210 / MU-53HN / MU-55HN Lavalier: MU-53L / MU-55L
Battery Type
2 AA alkaline
Current Consumption
High Power: approx. 161mA ; Low Power: approx. 120 mA
Dimensions
63 × 70 × 25 mm / 2.5 × 2.8 × 1.0 " (W × H × D)
Weight
Approx. 78 g / 2.7 oz, excluding batteries
Patents & Approvals
Patented. Telecom and safety regulations approved.
Notes
Refer to actual product in the event of product description discrepancy.
Frequency range and maximum deviation comply with the regulations of different countries.