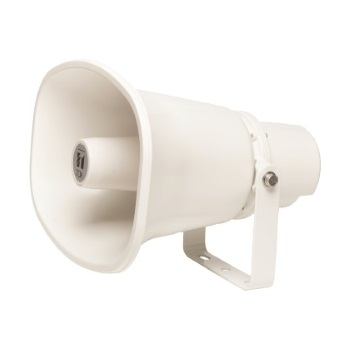 TOA SC-P620
Powered Horn Speaker
Price
Cash & Carry :
RM 1,010 each
• Integrated 20W power amplifier which utilises latest Class D technology.
• Switchable Gain: 8dB, 16dB, 24dB & 32dB.
• Internal volume control to allow on-site tuning.
• Integration to CCTV systems possible with the majority of IP CCTV systems equipped with an audio line output.
• Weatherproof to IP65 rating.
Datasheet
SC-P620 Datasheet [PDF]
Power Source
12V DC, 2 A (DC Socket "+" Type A: 5.5 x 2.1 mm)
Power Consumption
15 W (1.25 A) at Rated output
25 W (2.10 A) at Maximum output
Input
0 dB, 10 kΩ, Unbalanced (RCA plug)
Signal Gain
8, 16, 24, 32 dB (Factory preset to 16 dB)
Volume Adjustment
Internet volume control
(Factory preset to max. position)
Sensitivity (1W, 1m)
113dB (500Hz to 2.5kHz peak level)
Max. SPL (above 120 dB)
Frequency Response
250Hz – 10kHz
Dust/Water Protection
IP65
Finish
Horn Flare: HIPS resin, white (RAL 9010 or equivalent)
Reflector Horn & Case: ABS resin, white (RAL 9010 or equivalent)
Bracket, Screws & Bolts: Stainless Steel
Cable Cord
Length: 2m Flying Lead (RCA plug) & DC socket ("+")
Dimensions (W x H x D)
292 x 230 x 280mm
Weight
1.8 kg
Option
AD-5000-2 (LTE23E-S2-1) AC Adapter/td>