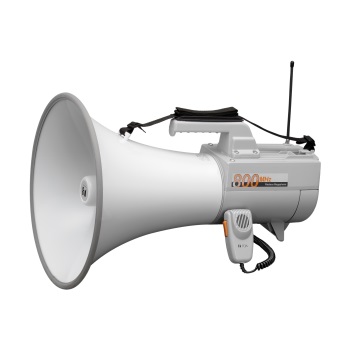 TOA ER-2930W
Choose Options
| Megaphone ONLY | Price |
| --- | --- |
| Buy 1 unit: | RM 1,920 each |
| Buy 2 - 4 units: | RM 1,735 each |
| Buy 5 or more units: | RM 1,550 each |
| Megaphone with Wireless Microphone | Price |
| Buy 1 unit: | RM 3,485 each |
| Buy 2 - 4 units: | RM 3,442 each |
| Buy 5 or more units: | RM 3,398 each |
• The ER-2930W is a shoulder megaphone having an EXT. mic input, AUX input, DC power input, battery meter and whistle function.
• It can be mounted to the optional ST-16 speaker stand.
• Microphone with anti-bacteria treatment improve hygiene and safety during use.
• The newly developed polyimide diaphragm is employed to ensure high sound quality.
• OPTIONAL: A wireless function is also provided.
Datasheet
ER-2930W Datasheet [PDF]
Power Requirements
Battery: R20P (D) x 10 (15V DC)
External Power: 12DC Battery
Output Power
Rated 30W, max. 40W
Battery Life
Approx. 17 hrs. Whistle: Approx. 90 min.
Audible Range
Voice: Approx. 800m
Whistle: Approx. 1000m
Signal Sound
Whistle (1,600Hz to 2,400Hz)
AUX Input Sensitivity
-10dB (300mV), 10k ohms (ø3.5 mini jack, stereo plug acceptable), volume control
EXT Mic Input
600 ohms, unbalanced, ¢3 phone jack, volume control
Receiving Frequency
UHF (800MHz band) and VHF (200MHz band)
Antenna
Fold-down filesxible antenna
Diaphragm
Polymide film (voice coil, bobbin)
Antibacterial Treatment
Microphone
Operating Temperature
-0ºC to +40ºC
Finish
Horn ring: Vinyl chloride, gray ; 
Horn: Aluminum, light gray, paint ; 
Microphone and other: ABS resin, gray ; 
Strap: Nylon, black ; 
Others: ABS resin, gray
Dimensions (W × H × L)
¢235 × 512mm
Weight
3.8kg (without batteries and microphone)