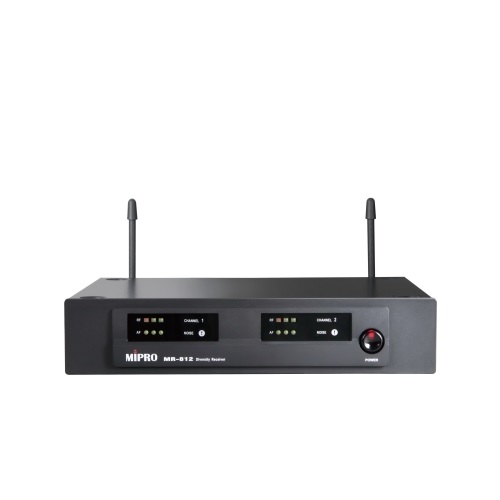 Mipro MR-812
Choose Options
| Receiver + MH-80 Handheld Mic * 2 | Price |
| --- | --- |
| Buy 1 unit: | RM 2,100 each |
| Buy 2 - 4 units: | RM 1,945 each |
| Buy 5 or more units: | RM 1,790 each |
| | |
| Receiver + MT-801 Clip Mic * 2 | Price |
| Buy 1 unit: | RM 2,100 each |
| Buy 2 - 4 units: | RM 1,945 each |
| Buy 5 or more units: | RM 1,790 each |
| | |
| Receiver + MH-80 + MT-801 | Price |
| Buy 1 unit: | RM 2,100 each |
| Buy 2 - 4 units: | RM 1,945 each |
| Buy 5 or more units: | RM 1,790 each |
| | |
• EIA Standard metal housings improve heat dissipation and shielding from spurious interference.
• 1/2U dual-channel diversity receiver.
• PLL synthesized fixed frequency circuit for stability and effortless frequency setup.
• Advanced diversity technology ensures optimal reception range and eliminates signal drop-outs.
• RF and audio level indicators.
• Output level is accurately pre-adjusted to equal to the microphone capsule sensitivity and ensures optimal performance.
• Adjustable 'SQ' for increased or decreased sensitivity level for increased reception range or interference management.
• Industry's only RF interference warning indicator for SQ adjustment.
• Up to 24 compatible channels can be used simultaneously at the same venue (country dependent).
• New MH-80 handheld transmitter features sturdy housing, high-efficiency transmitting circuit, and brilliant sound quality.
• Quick to install and easy to operate with high reliability and affordability.
• Ideal for entry-level stage and PA applications.
Datasheet
MR-812 Datasheet [PDF]
Channel
Dual
Chassis 
EIA-Standard 19 " 1/2U
Receiving Mode
Diversity
Frequency Range
480~934 MHz (country dependent)
Antenna
Rear Panel. Detachable.
Oscillation Mode
PLL Synthesized fixed-frequency; Frequency Stability ≦±0.005% (-10~+60℃)
Sensitivity
10 dBμV, at S/N > 80 dB
S/N Ratio
> 106 dB(A)
T.H.D.
< 0.5% @ 1 kHz
Frequency Response
50 Hz~18 kHz
Squelch
"NoiseLock" squelch circuit
Audio Output Adjustment
Output level accurately pre-adjusted to equal the microphone capsule sensitivity
Max. Output Level
3-Level Switch: +10 dB / 0 dB / -6 dB
Power Supply
External AC Adapter, 12~15V DC, 1A;
Power Consumption:6W
Dimensions (W × H × D)
210 × 44 × 180 mm / 8.3 × 1.7 × 7.1 "
Weight
Approx. 0.95 kg / 2.1 lbs
Transmitter
MH-80 Handheld, MT-801a Bodypack
Notes
Refer to actual product in the event of product description discrepancy.
Frequency range and maximum deviation comply with the regulations of different countries.
| | Price |
| --- | --- |
| MH-80 UHF Handheld Mic: | RM 900 |
| MT-801 UHF Bodypack Clip Mic: | RM 1,000 |
| AC-DC Adapter MWD41-1200500E: | RM 150 |
| | |