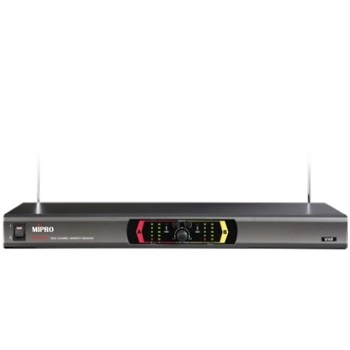 Mipro MR128
Choose Options
| Accessories | Price |
| --- | --- |
| MH-20 VHF Handheld Mic | RM 700 each |
| MT-103A VHF Bodypack Clip Mic | RM 800 each |
| Power Adapter | RM 150 each |
• Two-channel VHF wireless microphone system with Receiving Mode CPU-controlled diversity.
• Dual "Pilotone & NoiseLock" squelch prevent random noise interference sources like computers, karaoke machines and DVD players.
• Ideal for for DJ,Karaoke. Stable , easy to install, most affordable fool-proof unit.
Datasheet
MR128 Datasheet [PDF]
Main Frame Size
EIA standard 1-rack unit
Frequency Range
VHF 160~250 Mhz
Receiving Mode
CPU-controlled Dual Antenna-Diversity
Oscillation Mode
Quartz Controlled Fixed Frequency
Stability
±0.005% (-10~50°C)
Sensitivity
S/N>65dB@12dB micro V input
S/N Ratio
>105dB(A)
T.H.D.
<0.5% @ 1KHz
Frequency Response
60Hz~18KHz
Squelch Control
Dual "PiloTone & NoiseLock"
Volume Output
Output level accurately pre-adjusted to mach microphone capsule sensitivity so that users don't need to adjust the volume of receiver.
Max. Output Level
Three options:+10dBV / 0dBV / -6dBV
Power Supply
External AC Power Supply, 0.5A, 12~15V DC
Dimensions
420(W) × 44(H) × 204(D) mm 
16.5(W) × 1.7(H) × 8.0(D) in.
Weight
1.7kg / 3.7lbs.
Transmitters
MH-20 / MT-103a
Note
Varied specifications on carrier frequency range and maximum deviation to comply regulation of different countries.
| MH-20 VHF Handheld Mic | Price |
| --- | --- |
| Buy 1 unit: | RM 600 each |
| Buy 2 - 4 units: | RM 550 each |
| Buy 5 or more units: | RM 500 each |
| | |
| MT-103A VHF Bodypack Clip Mic | Price |
| Buy 1 unit: | RM 774 each |
| Buy 2 - 4 units: | RM 710 each |
| Buy 5 or more units: | RM 645 each |
| | |
| AC-DC Adapter MWD41-1200500E | Price |
| Buy 1 unit: | RM 120 each |
| Buy 2 - 4 units: | RM 110 each |
| Buy 5 or more units: | RM 100 each |
| | |