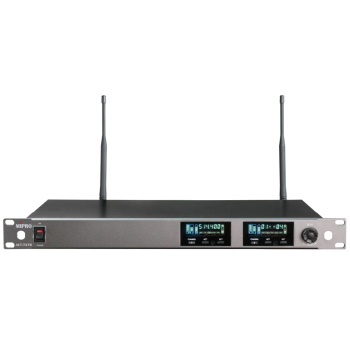 Mipro ACT-727B
Choose Options
| Receiver + Handheld Mic * 2 | Price |
| --- | --- |
| Buy 1 unit: | RM 8,750 each |
| Buy 2 - 4 units: | RM 8,090 each |
| Buy 5 or more units: | RM 7,430 each |
| | |
| Receiver + Clip Mic * 2 | Price |
| Buy 1 unit: | RM 8,750 each |
| Buy 2 - 4 units: | RM 8,090 each |
| Buy 5 or more units: | RM 7,430 each |
| | |
| Receiver + Handheld Mic + Clip Mic | Price |
| Buy 1 unit: | RM 8,750 each |
| Buy 2 - 4 units: | RM 8,090 each |
| Buy 5 or more units: | RM 7,430 each |
• EIA standard 1U rack-mountable metal receiver.
• UHF PLL synthesized circuit ensures high stability and low spurious emissions.
• Enhanced RF circuitry greatly reduces interference and intermodulation.
• MIPRO's 3rd generation advanced RF and IF circuitry to improve anti-interference characteristics and increase the number of interference-free channels available.
• Auto Scan function allows quick search for an interference-free working channel from 104 preset channels under 10 groups.
• World's first ACT™ function provides precise and rapid frequency sync to the transmitters.
• True diversity receiving for best reception quality. Dual "PiloTone & NoiseLock" circuits minimize interference.
• Industry's only full-color VFD screen delivers a bright, clear viewing in day or night environments with automatic bright (working) and dim (standby) displays during performance.
• All controls are intuitive and easily set up via a single rotary knob.
• Industry's only RF interference warning indicator for proper adjustments of the SQ level. Increase sensitivity to extend receiving range; decrease the sensitivity to reduce interference.
• Single channel or mixed output, switchable between three output levels for the best sound quality options.
• High dynamic range and high fidelity characteristics for transparent audio performance.
• Receiver provides bias voltage for MIPRO antenna systems to enhance reception range and signal stability.
• Superb RF reliability and transparent audio performance.
• Built-in 100 – 240V AC switching power supply ensures system safety and stability.

Datasheet
ACT-727B Datasheet [PDF]
Frequency Range
UHF 480 – 934 MHz
Bandwidth
24MHz
Preset Frequency
104 preset channels
Group 1 – 6: 8 compatible channels in each group 
Group 7 – 8: 12 compatible channels in each group
Group 9 – 10: 16 compatible channels in each group
Receiving Mode
True diversity
Receiving Antenna
Rear Panel. Detachable.
Oscillation Mode
PLL synthesized
Stability
≦ ±0.005% (-10 –+60℃))
Sensitivity
6 dBµV at S/N > 80 dB
S/N Ratio
> 105dB(A)
T.H.D.
< 0.5% @ 1kHz
Frequency Response
50Hz~18kHz, with high-pass filter
Squelch
"PiloTone & NoiseLock" dual-squelch circuit
Audio Output
Output level accurately pre-adjusted to equal to the microphone capsule sensitivity.
Max Output Level
+16dBV / 0dBV / -6dBV
Output Connectors
Balanced XLR
Output Switch
Single channel output or mixed output
Power Supply
Built-in 100 – 240 AC switching power
Power Consumption
15W
Dimensions (W × H × D)
482 × 44 × 265 mm / 19 × 1.7 × 10.5 "
Net Weight
Approximate 3.0kg / 6.6lbs
Note
Refer to actual product in the event of product discrepancy.
Frequency range and maximum deviation comply with the regulations of different countries.
| | Price |
| --- | --- |
| ACT72H UHF Handheld Mic: | RM 2,300 |
| ACT72T UHF Bodypack Clip Mic: | RM 2,300 |
| Switching Adapter SYS1089-1512-T3: | RM 220 |