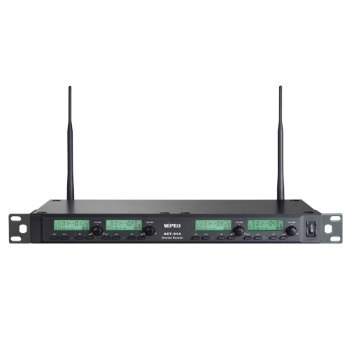 Mipro ACT-314
Choose Options
| | Price |
| --- | --- |
| Receiver + ACT-32H * 4 | RM 7,640 each |
| Receiver + ACT-32T * 4 | RM 7,640 each |
| Receiver + (ACT-32H * 2) + (ACT-32T * 2) | RM 7,640 each |
| | |
CPU-controlled diversity receiving. "PiloTone & NoiseLock" dual-squelch circuit eliminates signal drop-out and minimizes interference.
All controls are intuitive and easily operated via electronic buttons to prevent accidental operation.
Industry's only RF interference warning indicator for proper adjustments of the SQ level. Increase sensitivity to extend receiving range; decrease the sensitivity to reduce interference.
Auto Scan function allows quick search for an interference-free working channel. World's first ACT™ function provides precise and rapid frequency sync to the transmitters.
Output level is pre-adjusted to equal the microphone capsule's sensitivity. Switchable output levels for the best sound quality options.
Receiver provides bias voltage for MIPRO antenna systems to enhance reception range and signal stability.
Datasheet
ACT-314 Datasheet [PDF]
Channel
Quad
Chassis
EIA Standard 19 " 1U metal chassis
Receiving Mode
CPU-controlled diversity receiving
Dispaly
Green backlit LCD with automatic bright (working) and dim (standby) displays during performance.
Frequency Range
UHF 480 ~ 934 MHz (country dependent)
Bandwidth
24MHz
Deviation
< ± 40 kHz
Preset Frequency
112 preset channels.
Group 1-6: 8 compatible channels in each group.
Group 7-10: 16 compatible channels in each group.
Group 11: Up to 8 channels can be saved & recalled. 961 user-defined frequencies in group 11.
Antenna
Rear Panel. Detachable.
Oscillation Mode
PLL synthesized
Stability
≦ ±0.005% (-10 - +60℃)
Sensitivity
10 dBµV at S/N > 80 dB
S/N Ratio
> 106 dB(A)
T.H.D.
< 0.5% @ 1 kHz
Frequency Response
50Hz~18kHz
Squelch
"PiloTone & NoiseLock" dual-squelch circuit
Audio Output
Balanced XLR & Unbalanced 6.3 mm (1/4 ")
Maximum Output Level
Balanced: 0 dBV ; Unbalanced: +10 dBV / 0 dBV
Power Supply
12 – 15 V DC, 1A
Dimensions
420 × 44 × 180 mm | 16.5 x 1.7 x 7.1 "
Weight
Approx. 1.75 kg / 3.9 lbs
Note
Refer to actual product in the event of product discrepancy. Frequency range and maximum deviation comply with the regulations of different countries.
| | Price |
| --- | --- |
| ACT-32H UHF Handheld Mic | RM 1,300 |
| ACT-32T UHF Bodypack Clip Mic | RM 1,300 |
| MU-53HN-XLR Headworn Mic | RM 760 |
| Power Adapter | RM 500 |