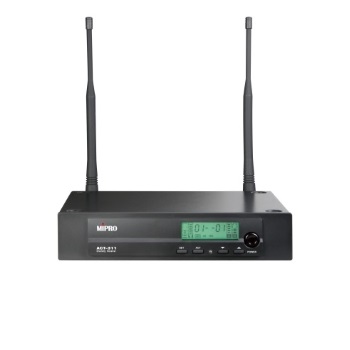 Mipro ACT-311B
Choose Options
| Receiver + ACT-32H Handheld Mic | Price |
| --- | --- |
| Buy 1 unit: | RM 1,960 each |
| Buy 2 - 4 units: | RM 1,815 each |
| Buy 5 or more units: | RM 1,670 each |
| | |
| Receiver + ACT-32T Clip Mic | Price |
| Buy 1 unit: | RM 1,960 each |
| Buy 2 - 4 units: | RM 1,815 each |
| Buy 5 or more units: | RM 1,670 each |
• EIA standard 1/2U metal receiver.
• Receiver provides bias for booster where MIPRO antenna systems can be added for extended receiving range and stability.
• Backlit LCD displays group, channel, frequency, RF level, antenna selection, AF level, battery level indicator, interference warning indicator, and panel lock indicator.
• A lit green light indicates a working mode when receiver detects an incoming signal or buttons touched. Light dims automatically when receiver is idle for about 10 seconds.
• Balanced XLR / unbalanced 1/4 " audio output jack, output level switch and DC input are on the rear panel. One mixed-output switch is available for dual-channel receivers.
• High efficiency and low spurious PLL circuitry with Auto Scan functioin. Each receiver is presets with 11 groups, Groups 1~6, 7~10 have 8 &16 compatible channels respectively. Up to 8 channels in group 11 can be saved and recalled within 961 user-defined frequencies. A total of 112 preset channels per band.
• World's first ACT™ function provides precise and rapid frequency sync to the transmitters.
• Advanced diversity technology for optimum reception range and reduces signal dropouts and the "PiloTone & NoiseLock" dual-squelch circuits prevent noise interference.
• Adjustable 'SQ' for higher sensitivity to increase receiving distance and lower sensitivity to reduce interference.
• Industry's only RF interference warning indicator for ideal SQ level adjustment.
• DC input socket accepts 12~15V power supply.
• Matching ACT-32H handheld and ACT-32T bodypack transmitters.
Datasheet
ACT-311B Datasheet [PDF]
Channel
Single
Chassis
EIA Standard 19 " 1/2U metal chassis
Receiving Mode
CPU-controlled diversity receiving
Frequency Range
UHF 480~934MHz
Bandwidth
24MHz
Preset Frequencies
112 preset channels.
Group 1-6: 8 compatible channels in each group.
Group 7-10: 16 compatible channels in each group.
Group 11: Up to 8 channels can be saved & recalled. 961 user-defined frequencies in group 11.
Antenna
Rear Panel. Detachable.
Oscillation Mode
PLL synthesized
Stability
±0.005% (-10~+60ºC)
Sensitivity
10dBµV, at S/N>80dB
S/N Ratio
>106dB(A)
T.H.D.
<0.5% @ 1kHz
Frequency Response
50Hz~18kHz, with high-pass filter
Squelch
"PiloTone & NoiseLock" dual-squelch circuit
Audio Output Adjustment
Output level accurately pre-adjusted to equal to the microphone capsule sensitivity.
Maximum Output Level
2-level Switch: Line & Mic
Power Supply
External AC Adapter, 12~15V DC, 1A
Dimensions
210(W)×44(H)×180(D)mm / 8.3 (W)x1.7(H)x7.1(D)"
Weight
Approx. 0.8kg / 1.8lbs
Note
Refer to actual product in the event of product discrepancy. Frequency range and maximum deviation comply with the regulations of different countries.
| | Price |
| --- | --- |
| ACT-32H UHF Handheld Mic: | RM 1,160 |
| ACT-32T UHF Bodypack Clip Mic: | RM 1,160 |
| Switching Adapter SYS1089-1512-T3: | RM 220 |
| | |