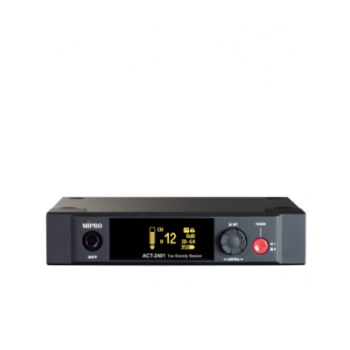 Mipro ACT-2401
Choose Options
| with MP-20 Battery Charger | |
| --- | --- |
| Receiver + ACT24HC or ACT24TC | Price |
| Buy 1 unit: | RM 2,800 each |
| Buy 2 - 4 units: | RM 2,590 each |
| Buy 5 or more units: | RM 2,380 each |
| | |
| with MP-80 3-in-1 Transmitter Charger Station | |
| Receiver + ACT24HC or ACT24TC | Price |
| Buy 1 unit: | RM 3,200 each |
| Buy 2 - 4 units: | RM 2,960 each |
| Buy 5 or more units: | RM 2,720 each |
| | |
• The single-channel receiver in 1/2U metal chassis has a built-in high-efficiency antenna in the front panel.
• MIPRO's unique control panel equips a graphic OLED, providing a larger field of view without a blind angle.
• Stable digital modulation circuitry. 12 channels of interference-free operation are located in a single frequency band.
• Dual tuner true diversity receiving ensures long-distance reception and eliminates signal drop-out.
• Effectively avoids the RF interference from UHF communication products.

Datasheet
ACT-2401 Datasheet [PDF]
Channel
Single
Chassis
EIA Standard 1/2U metal case
Antenna
Built-in, front panel
Frequency Range
ISM 2.4 GHz band (2,400~2,483.5 MHz)
Preset Frequencies
12
Receiving Mode
Dual-tuner true diversity receiving. ACT Sync channel set-up
Sample Rate
24-bit / 44.1 kHz
Frequency Response
20 Hz ~ 20 kHz
Latency
< 4.0 ms
Dynamic Range
> 117 dBA
Output Connectors
Balanced XLR & Unbalanced Ø 6.3 mm, -10 ~ +20 dB adjustable range.
Power Supply
External 100~240V AC switching power supply
Dimensions
210 × 44 × 162 mm (W×H×D)
Weight
Approx. 0.7kg
Note
Refer to actual product in the event of product discrepancy.
Frequency range and maximum deviation comply with the regulations of different countries.
| | Price |
| --- | --- |
| ACT24HC Rechargeable UHF Handheld Mic: | RM 1,400 |
| ACT24TC Rechargeable UHF Bodypack Clip Mic: | RM 1,400 |
| Switching Adapter SYS1089-1512-T3: | RM 220 |